Around the world, men are being called upon to engage with reproductive health problems by clinicians and policy makers. Our research shows Malawian men are already intimately involved, indeed how can they not be?
The Chitumbuka saying Mwanalume wa nkhongono - [man of strength] - links being a man with high fertility and sexual prowess. This stereotype is challenged by rural men, who show there are many ways of being a man and becoming a father.
This exhibition follows men's reproductive journeys – from boyhood aspirations to fatherhood, using interviews with 55 men and their partners from Karonga District - the Chitumbuka speaking, northern lakeshore of Malawi. Men born over four decades (1959 -1994) talk about HIV, contraceptive use, partner and child health and infertility as part of their life stories. Their journeys differ and rarely follow a straight course.
These men, the majority of whom are farmers, fisherman or in other skilled occupations, explain that their experiences of fatherhood are shaped by their extended families, church membership (including the growth of Pentecostalism since the 1970s), the media, sex lives, wealth, and love. Sometimes these forces pull them in conflicting directions.
Government and NGO initiatives aimed at influencing men's role as husbands, such as motivating men to HIV test with their partners, provoke a full range of emotions from laughter at the idea of "doing gender" to relief when transmission of HIV to children has been prevented. It should be no surprise that the category "men" disintegrates the instant we consider the many potential roles from which individuals may influence reproductive health; as youths and elders, husbands and fathers, teachers, health workers, pastors, village headmen [chiefs] to name a few.
Listening to the experiences of individual men and respecting their diversity and difference is crucial to understanding the context of reproductive health issues in Malawi. This digital exhibition and blog is intended to be a space where people can explore others' narratives and share their own.
The portraits found here were originally taken at men's homes as a thank you for time given to the project. The participants have given permission for them to be used to share their stories with the world. This willingness to share their identities and stories reflects the importance and pride that men accord to becoming fathers. The photographs direct attention to the individuals and relationships central to this research, and to how men are represented by themselves and others as parents, lovers and care-takers.
'We' are Fiona Parrott, Green Kapira, Dorothy Makoka, Aaron Ndovi, Blessings Mwandosya, Levie Gondwe, Paston Mkandawire, Misheck Nkhata and Mia Crampin, from the University of Amsterdam, the Karonga Prevention Study and the London School of Hygiene & Tropical Medicine, whose own reproductive journeys in the course of this project have welcomed the birth of six children, including twins. On the Record (a UK oral history co-operative) worked with us to produce the exhibition and website.
This exhibition is dedicated, with our thanks, to everyone who participated, generously consented to the reproduction of their words and images, and collaborated in bringing these reflections to life.
A girlfriend can be a "mixed blessing." She may "make demands" that are difficult to meet financially. Desire for girlfriends can "confuse the mind" and make it difficult to concentrate on education. Indeed, sex is a punishable offence in some schools and families. Girlfriends afforded boasting opportunities, but they are also valued as companions, someone to chat and share schoolwork with:
"We could have sex sometimes but most of the time we would discuss issues about school. We gave each other 'best wishes' cards so that we should write our exams well."
Many dream of completing fee-paying secondary education to access scarce employment opportunities, but this is difficult. School experiences commonly involve repeating years in the same class, learning at several different schools and leaving home to stay with relatives. A recent survey by the Karonga Prevention Study shows that only 17 percent of men and six percent of women aged 20 to 30 years pass the finishing line and gain their Malawi School Certificate of Education.
Parents and relatives advise young men against the risks of premarital sexual contact or marrying too early:
"Because if I can get diseases at this stage, it means my life will go astray."
"[My relatives] said they know most people desire to have sex whenever they have a girlfriend, so if you cannot eliminate those feelings it's better to protect yourself. They said it's good to have a girlfriend to know each other's behavior before you get married, but we ought to abstain."
Youth groups affiliated with churches and NGOs, increasingly provide spaces for young people to find out about issues previously considered taboo. They discuss "how to grow into responsible men and women," how to "protect ourselves from HIV and benefit from available contraceptive services," and meet like-minded partners. Many couples aim to HIV test together before marriage.
In the event of unplanned pregnancy, some young men deny responsibility to their elders, who would otherwise thrust an undesired marriage and all the adult responsibilities that entails upon them. However, other young men, accept that they are "the owner of the pregnancy," proudly declaring, "she is carrying my cargo."
After marriage it can be embarrassing, shameful or simply unaffordable for the young couple to continue at school. Marriage means that banyamata [unmarried boys] enter into the world of balala [married men,] making a living from farming, fishing or day labour. Whether or not to acknowledge a pregnancy is a momentous decision: by accepting fatherhood, boys embark upon adult life:
"I was nervous because I wasn't sure if I was in a position to support her and say 'this one is my responsibility nobody else will take care of her.' She has left her parents, I have left my parents, I don't have any relative of mine that I will look upon but myself."
After leaving school, some parents encourage banyamata in their continued quest for training and employment, others lament, "when will I taste nsima [maize or cassava flour porridge] cooked by a daughter-in-law?"
It would be unthinkable for a man to remain unmarried indefinitely here in Karonga District, where close to a hundred percent of adults marry. Reasons for marrying range from practical considerations such as wanting someone to cook for them or nurse family members, to romantic love and desire.
There are no organised initiation ceremonies for Tumbuka youth, so marriage is the first step on the lifelong high wire performance that is becoming a man.
Conventionally northern men bakutola [marry] and women bakuthengwa [are taken]: "We say daughters are lost to their families." Traditionally, couples live within the husband's paternal home, but as people increasingly move around for work this is changing.
Marriage is entered into in different ways, depending on the couple's finances and religion. Those with the money to do so tend to follow formal procedures beginning with kufikila [the introduction of a man's name and his intention to marry at the woman's home.]
Following such procedures is important, as one man explained, because, "if there is a funeral [of a wife or child] in future and you did not marry following the procedure, you may find that before the burial they will ask you to settle the case [pay the wife's relatives so he may keep his children or bury his wife or child at his family graveyard.] So I didn't want those things, I wanted to walk freely and be welcomed in both families."
During marriage proceedings chuma [bride price] negotiations take place between the two families through the thenga [a go-between representing the suitor.]
The considerable expense is often met by male relatives. Some men choose to elope because of a lack of finances, paying for chuma "little by little" after the marriage.
One man remembers how he came to elope:
"I met my wife on the way. She was walking. She asked me to carry her on the bicycle. I responded, 'I don't carry someone's wife, I only carry those who are not married.' She responded, 'I'm not married but I am looking for someone to carry me on a bicycle.' I asked her if she had ever been married before. When she said no, I asked her, 'can it be my chance or your chance to get married?' She said, 'if you want me, come to my home.' So I visited her home. Afterwards she escorted me to the road where we discussed and she agreed to come to my home. At night I heard her sister calling me, 'your friend has come' … I sent a little money to her parents to inform them that I am the one who has married your daughter. That's the way I married."
Churches involve themselves in the marital practices of their congregations: "Whenever we disagree on issues in our marriage it's the church elders who advise and direct us." The African Church's constitution condones polygamy, while churches such as the Church of Central Africa, Presbyterian (CCAP), the Catholic or the fast growing Pentecostal churches discipline men for marrying more than one wife.
Beyond all of the procedural arrangements, as one man said, "getting married is not only about paying money, having love is number one and also faithfulness and the way you stay [treat one another.]"
We asked men how they showed love and knew it was returned. Responses included having fun together, making sacrifices and meeting each other's needs by:
"Laughing and chatting in the house."
"Discussing and agreeing on what we plan to achieve in farming – and helping each other buy things after we have harvested our own gardens."
"Even if she has little food for her to eat she tries her best to keep a little for me. When I want to have sex there is no problem. There are so many things, but through this I prove that she loves me."
"Sometimes I buy sobo [orange squash] and then call my wives together with the children. I don't go with that sobo to each house because that can mean that I love the first or second wife [the] most."
Engaged couples increasingly HIV test together and sharing the same status is considered important. One woman recalls, "we were all found negative and started trusting and advising one another." Her husband reflected, "had she been found with the virus I would have just encouraged her for a month. You can't dump her right away. And afterwards we would part."
Moreover, regular HIV testing together during marriage can come to signify commitment. As this man, who donates and tests his blood every year, said, "By doing so you become a happy married family because you are able to go and do things together. We stay very well in our marriage and it's a delightful marriage."
Chronic sickness may imperil a marriage. Others, like this HIV positive man, find that all his wives still show him love: "When I started explaining to her [his HIV negative wife] that it's now difficult for you to stay with me; it's like being thrown in the pit of lions. She responded, 'I will stay because I already promised that I will stay with you in problems and at peace'."
Even before the arrival of his first born, a man could become a father to younger siblings or cousins who may be sent to his house for care, schooling or simply a richer field of experience. One man explains, "I'm a parent to these other brothers of mine." Elder male relatives, whether father, uncle or brother, are all described as fathers.
Yet whether responsibilities to provide for dependent kin are carried heavily or lightly, pressure to conceive is high. Male friends joke, "we're waiting – nine months!" or, "don't just waste our money [wedding gifts] – we want to have results!"
A child is unmatched by any other wealth a man may accrue: "If we can compare a gift of a child and a vehicle - you find that the person who is valued is the one having a child. If he doesn't have a child he doesn't become settled, even if he is rich."
Men recall the happiness and respect that the gift of a child had brought them: "It reached a time that the baby was always in my arms. For it was the first time, it was just as when one has bought a new shirt, he always puts on that shirt. So our love grew stronger and stronger."
Parents are called by their first child's name. Sometimes their own names are forgotten, the new name forming a permanent reminder of their changed status: "When I had the first child I knew that I am grown up … After this I started to be called the father of Solomon from that date till now."
Fathers described how their first born was welcomed by people in the village. Women came with soap, flour, rice or fetched firewood or drew a tap [carried water] for the new mother. Relatives visited the baby with gifts such as, "a mosquito net, an umbrella from Karonga, a basin to bathe the baby, and a lamp."
The father himself may purchase vitenje [cloth wrappers] from Tanzania for carrying the baby and a shawl, and perhaps napkins and a baby suit, and through this, "people witnessed I was happy." One man commented, "after having the baby I stopped spending money on beer. Relatives who loved me started telling me you are now grown up, you have to stop such things. My wife was happy. Coming back at one am [from a drinking spree] how could I know what has happened to the baby?"
Descent is traced through fathers. But a man secures his right to children born in the marriage by being accepted by his wife's family and paying chuma [bride price.] Men who haven't even paid a chibadala [a small apology payment] run the risk of their wives leaving with the children if the marriage ends: "If I chase her (divorce) she will take the children." While many women stay in unhappy marriages to remain with their children, if a man fails to pay chuma and does not fulfill his responsibilities he risks his wife's relatives changing the children's surnames, which is a great insult.
Resemblance to fathers is cherished, particularly if a man suspects his paternity may be in doubt. A wife recalls, "some of his friends were telling him that I was not 'moving in the right way'. I told him that the children were his children but he doubted and I told him that we should wait and see what God had prepared for us. What happened was that the fifth child resembled him and he then named him after him." Traditional courts and in-laws censure men who resort to violence in retribution for perceived infidelities.
Some men hold and comfort babies, while others see that as a woman's task. Ferrying sick children to hospital by bicycle, paying for school fees and clothes, offering advice, finding land for their sons and offering a place of return for daughters when those daughters leave their husbands' homes, are among the ways men show care for children throughout their lives. Wherever children grow up, knowing their father and their father's family is important:
"I would go to her place to chat. When she started sitting I would carry her to the market. And when she started a paying school her grandmother sent her to me, her father, to get fees. So that's how she knew me."
As one woman explained, "when you're pregnant you're a boss!"
A husband's total failure to care in pregnancy is a serious matter. One woman returned to her parents' home in desperation as her husband lavished money on girlfriends rather than her needs. Her father advised her to divorce.
However, men may be teased for their efforts: "If people see you busy sweeping in the morning, they say, 'You're a good man, you're practicing gender equality', because it's talked about on the radios."
Men are encouraged to attend antenatal care, known as going to scale [because the women are weighed.] As an incentive, women accompanied by their husbands are seen quickly. Some men feel it is wise to attend but to do so is still relatively uncommon: "When I accompanied my wife to scale some people said, 'he's been given a love potion,' others said, 'ah, he wants to show by example.'"
Men who say they're busy suggest what's important is a full report: "the man should ask his wife how things were at scale." A reason men want to go is so they hear information for themselves: "They say how you should meet in the house [have sex] when the woman is pregnant, about the types of food she should eat- because sometimes when the woman explains I think she is making it up."
At scale, couples can HIV test together, otherwise pregnant women must shoulder the burden of being the first to test and fearfully carry the news. Yet even men who have carried their wives by bicycle may wait outside and avoid testing and counseling, sometimes for the simple reason that these are women's spaces. If the results are positive the couple can then plan how to protect the HIV negative partner or how to prevent transmission from mother to child.
Many believe that if they are positive their partner will be likewise. This man explained, "I was a bit nervous if anything might turn up at scale, but I encouraged her to go. I was very worried that if I was positive she would have been found so … It was our turn, they tested both of us, but she was found negative and that gave me hope in life."
One man recalls the advice they were given in 2009, "we came here at the hospital and she was given a tablet to take before delivery to protect the baby from HIV infection. She was also advised to breast feed the baby up to six months, but she prolonged the period. When the medical assistant found that the baby was still breast fed, he shouted at us!"
Since 2011, pregnant and breastfeeding women start full, lifelong antiretroviral treatment immediately: "I started because I was pregnant…My husband started [treatment] because of me."
BIRTH
A pregnant woman will often call upon female relatives to provide care in the lead up to delivery and after the birth. Malawi's national policy is to insist upon delivery at a health facility. Husbands support their wives to stay near the hospital before labour begins: "I brought help in the form of money, food and firewood to the hospital where she was staying." But not everyone reaches health facilities in time: "My husband went to look for car hire but none was found, he carried me on a bicycle but I gave birth on the way."
Some men are highly aware of the risks women face giving birth: "I worry because my sister died of pregnancy complications last year." Others are nonchalant, as one woman relates, "on the third and fourth child I struggled. And I was advised at the hospital that if I continue giving birth I would lose my life and leave the children behind … He wasn't there and after I told him he didn't understand." When asked, "did your wife face any problems giving birth to these four children?" her husband answered, "no."
Recently, the rural hospital asked women to encourage fathers to attend the delivery ward, an initiative that was met with surprise: "I consider testing together good, but being at the labour ward when a wife gives birth – to me that's useless … The reason is you can't sit on the chair watching your wife in great pain as she gives birth!"
While women almost always take charge of routine vaccinations, fathers often step in when their children are sick. This is nothing new.
One woman, born in 1988, remembers how her father took her to different hospitals as a child when she was seriously ill, "my father took me to Sangilo health clinic, from there to Jetty – the rural hospital – where I got life." When asked how her husband shows love to his children another woman said, "sometimes when the baby is sick at night and you are tired, you find that he has carried them to the hospital. And then you have no choice but to follow behind."
When fathers describe the costs associated with children they recount the expenses associated with early childhood illnesses, from frequent fevers to diarrhoea and coughs. These are a major factor that influences the spacing of births.
This father sought treatment for his fifth child but couldn't cover the hundred kilometres to the District Hospital in time: "What happened was that we did not know that he was suffering from asthma but we thought that he was suffering from a mere cough. We were surprised to notice that there was a shortage of blood in his body … and when we went at Jetty [the rural hospital] we were not given treatment and they said we should go with him to Karonga District Hospital because there was no medicine. We returned and the child died on our way home."
Traditional healers are consulted when vimbuza [spirits] are thought to play a role, and when other forms of treatment do not prove successful. Fathers and mothers usually visit the traditional healer together, as the cause of their child's illness could involve either member of the couple or require both to participate in expressive healing rituals to appease those spirits.
Elders sometimes blame chitasha [the belief that if a child's death strikes a family, an unexplainable disease afflicts the wife or husband,] especially if deaths occur more than once. They may be restrained from crying, among other rituals, to avoid the threat of future deaths: "Our parents told us not to cry and they said that we should just bury the dead body. They gave us medicine that we took the very same day. Elders told us that if we mourn the medicine will not work and children will continue dying like that. But I do not know much about chitasha in this age and whether it is indeed a disease."
At worst, if a couple believes their fertility is not matching, they consider it to be risky to continue childbearing together: "We went with my son at Karonga hospital and Jetty but there was no improvement. Some of the herbalists say that it is caused by a stomach disorder, and some say that there is a frog in his stomach. I do not know the truth because my son's body just swells and that was why I told my wife that we should not have another child [soon] ... if she wants to have another child then she should get married somewhere (else) because … our mphapo [fertility] is not matching."
Male methods of pregnancy prevention are time honoured, from condoms, "the main method that sticks to the youth" to withdrawal before ejaculation for the experienced. Withdrawal, known as the jumping method, is considered risky, moreover, "sometimes neither you or the woman are satisfied."
In long-term relationships, hormonal contraceptives (now readily available) for women are seen as a convenient way of spacing births, recovering after miscarriages and stillbirths and caring for existing children. A few married men accompany their wives to health clinics to learn more, others hear about them second hand.
Tensions can develop around these female controlled contraceptive methods. Most men want their wives to ask their permission to use them, as one woman reports, "I made the decision myself to start using injections so that the children can grow [before we have more babies] … Afterwards I came and told him. He said, 'if you face problems with that it will be your own fault because you go there with your own strength.'"
Husbands may refuse to allow their wives to use contraceptives in case they will be unfaithful, or alternatively because they fear they are bad for their wives' libido and fertility.
However, it's not only men who can be unwilling to use contraceptives. When the father in the family pictured suggested limiting the numbers of their children with contraceptives, his wife said, "God did not prepare that for me." He says, "I was much troubled in my heart after she said that and she also suspected me of going out of the house [for extra marital affairs] but I was abstaining and my emphasis was on family planning."
Communication and understanding helps prevent unwanted pregnancies: "If you disagree, that's when problems come." Customarily paternal aunts have been the conduit for highly explicit talk. They simulated sexual positions for a new couple to observe, and wives informed their husbands of a pregnancy via his aunt. One intransigent husband was persuaded by his wife's relatives to allow her to continue using contraceptive injections. They told him, "you have a child who is sick, if your wife has another child what will you do? Will you help her? You won't have a chance to leave the house!"
Aunts continue to play an intermediary role but what is considered to be acceptable communication around sex and reproduction between partners, as well as taboos on talk between parents and children, is changing. One eldest brother comments, "with the coming of HIV/AIDS I think the responsibilities are shifting. Traditionally, where I come from, it used to be the role of an aunt, so whatever I want to say to my younger brothers and their wives about child spacing for instance, I would not speak publicly myself … [He continues with morbid humour] But nowadays how many have their aunts still alive? [laughs]"
Another man emphasises the importance of frank communication as a couple in the era of HIV, "if you are open to each other things will go well, but we men, most of the time we like to hide things." Indeed, one woman recalls, "my husband tested first and he was told that he was positive but he didn't disclose this to me. After sometime I discovered that this was the reason he was refusing to have another child, and he said, 'sorry that is the reason.'"
Still family planning for couples living with HIV is fraught with difficulty. With the so-called creation method, couples use condoms except during fertile days of the month. This, along with antiretroviral treatment, reduces the risk of HIV transmission to an uninfected partner or passing treatment-resistant strains of HIV between partners who are both positive. As one man reflects, "there is danger because a child is not born in a single day." When one man wanted to put his trust in God, his church elders advised him to also wear condoms.
Rising consumption costs and standards of living, and the desire to invest in their children's education, give young men pause for thought when planning their families. Some men express a desire to treat their children equally, an ambition which they feel can only be achieved by limiting the size of their family.
This man, who is in salaried employment, reflects: "With three or four children I can manage to help them and each can appreciate that their father gives them equal support rather than differentiating by saying 'I have failed to have enough school fees so these children should go to school while others should remain at home.' Life now seems very different. During the previous time people were just farming but nowadays even gardens are scarce."
Men contrast their experiences of having legions of siblings with their aspirations for their own families: "I was born in 1978, we were fourteen children from the same father and mother, and our father had five children with another wife… I want five children with my first wife and five with my second wife."
However, ask a man how many children stay at his home and counting his own children is only part of the story. Some fostered children pass through, while children orphaned by AIDS stay. Coming full circle, one man declared: "I want four children, because that's how many I believe my relatives can manage to care for if I die."
Couples need for boys and girls, may conflict with the desire to reduce the figures. Women like to have the help of girls and having boys consolidates a wife's position: "When our son was born my wife was happy. She said 'I've built myself a home' because her son will prevent her from leaving and build her a home."
For fathers with farmland, having male children is still of upmost importance. Boys "grow the clan" and inherit their father's home. They bring daughters-in-law to join the family who will in turn bear grandchildren, "God provided me with sons, daughters will be found in future when they marry."
The different status of boys and girls affects the plan a couple makes or that others pressure them to make about their family size: "The birth of the second girl is already a problem to my parents. My father brought a herbalist to the house to give us medicine to change our mphapo [fertility.] He said, 'I want you to take these herbs so you have a boy.'"

Some church pastors offer up prayers for families with a single sex brood as an alternative intervention. However, times are changing. Educated girls are increasingly seen as having much the same potential as boys to support their aging parents:
"My girl says 'I want to be educated.' She says, 'my Dad, I'll build a house for him, buy him a car'. She's ambitious!"
"If the third born is a girl I will add a fourth. But if all are girls I will still welcome them. Then our 'programme' will be over."
The prospect of permanent childlessness is extremely painful for those who had "dreamed of being an elder and called father," especially for men who have experienced more than one childless marriage: "It's like an open wound. A child is the most precious thing in marriage, a thing you can't buy with money. A child comes to your aid when you are old and inherits whatever you have after your death."
"People regard a man as a hundred percent" unless his partner proves her fertility elsewhere. Men talked of the problem stemming from their wives' tcheka [menstrual irregularities] or "blocked or narrow path."
Most childless couples consult herbalists before the hospitals. However, as more men and women attend clinics for diagnosis, low sperm count and other male fertility problems are increasingly acknowledged: "It's very difficult for me to understand why most people say that you [the husband] should divorce the wife, because you haven't checked yourself and found out if you are alright. It's backed-up by the Tumbuka custom of taking the wife from her home though I feel it's a very minor reason." In research with couples that present to urban infertility clinics in southern Africa, it is reported that the male partner receives a diagnosis of infertility in around half of cases. Read more about the results of infertility investigations here.
Pressure to seek a solution from relatives on each side grows with each passing childless year. A wife may be scorned by her husband's relatives: "Why are you here? You're just filling the toilets."
One man recalls, "my aunts would tell me to move this shame of mine and get another wife. My relatives would call me to meetings and tell me my wife was a prostitute and could not conceive because she had abortions. My wife's relatives would call her home and even my own cousin was secretly encouraging my wife to get a boyfriend. I said I would rather stay without a child if this is what is supposed to happen."
Under pressure from his wife's relatives they sought help from herbalists but after one demanded to sleep with his wife and another accidentally poisoned them, he turned to prayer. The District Hospital could not explain their troubles but the couple eventually conceived: "After the birth we became much relieved. We had another child six years later. Not all of my relatives were happy, maybe those who had told me to divorce felt humiliated."
There are many reasons why couples like the one described above may resist social pressure to end the marriage prematurely or go outside it to conceive. One devout Christian said, "it is written in the bible that a man should have one wife."
Others are wary of contracting HIV, "you may have found what your relatives wanted, for they wanted a child, but your life is finished." One man cited education, "in the past when a person has no children, relatives could say 'do this or leave this woman.' When a man is educated he has authority, even a woman has authority when she is educated. You can invite discussion but the decision comes from you."
High tech solutions to intractable fertility problems are currently unavailable and treatment options are limited. Childless men take their fathering roles in extended families seriously; meeting these children's every need. These fostered children help lift loneliness and lighten wives' domestic burdens. Although never having had a child is far less common than being unable to have another child due to infections or birth complications, it remains the greater fear.
As one young man confided in the hope of reassurance, "I am still worried since I heard that bilharzia [parasitic disease] affects fertility. You know women need children. My friend's wife ran away because they didn't have a child. I'm worried I will stay alone as a bachelor."
Men reflect on how they attracted women, be it by hard cash or nifty Malipenga dancing. Girlfriends offered prestige, pleasure and companionship while working away from home. For some men, girlfriends were a way to test their fertility and try to conceive a healthy child.
As with younger unmarried men, extra-marital pregnancies present married men with a choice, to "sometimes accept or sometimes refuse" responsibility for the child. He has, in cultural and social terms, "committed a crime." If he accepts responsibility as the child's father he might be forced to accept this girlfriend as a wife or pay a penalty. His decision affects whether the child will grow up knowing his father's home and bearing his name.
For married men, polygamy is one solution to accidental pregnancy and is perceived as an honourable course of action: "I intended just to chat with her [have sex] not to marry her. But when an accident took place we [got] married. Her relatives came with her and I accepted that she is indeed my wife because I knew I was responsible for the pregnancy. So I stayed with two wives."
Alternatively, a man may refuse to take responsibility for the pregnancy, although this does not mean he necessarily permanently evades responsibility: "Sometimes where I walk I can find a girlfriend and after being free to each other I can have unprotected sex. As a result I would impregnate her and if her parents bring her to me I would refuse the responsibility of impregnating her. But after she delivers and the child grows her parents will bring the child to me. That's the problem for us young men because we visit so many places."
Children unacknowledged by their fathers are raised by their mothers alone or with another maternal relative because it is difficult for women to bring their children to a new marriage. An unacknowledged child may even be named Wakumanya [HE knows], implying that God knows the father, even if the father denies paternity.
Yet the responsibilities of fatherhood may motivate a man to kuombola [redeem] children that have grown up with maternal relatives and bring the child to his home. One man explains he did this to gain, "that prestige to say I am the father, I am somebody, is what motivates me to redeem my child to my home. Believing that child will say, 'my father didn't't bother with me' is a bad feeling."
As this father continued to explain, redeeming the child born in his youth, had become expensive, "It's not that I didn't want to, but I didn't have the means at the time. It's difficult … If your child is born outside marriage it's an offence. You have to pay a penalty for that, then the costs of bringing the child up [to the maternal relatives.] You pay more if they start paying for secondary school."
Beyond the expense of girlfriends and outside pregnancies, many men cite religion and love for their spouses as reasons they do not have extra-marital relationships. One explained, "I really make sure that I shouldn't breach the rules we have set up in our marriage."
Others use condoms with casual partners, simultaneously reducing the risk of pregnancy or HIV: "She asked me to help her harvesting, so I proposed to her. Otherwise there was no benefit for me and she would take me for an inactive person. We use condoms because we are scared."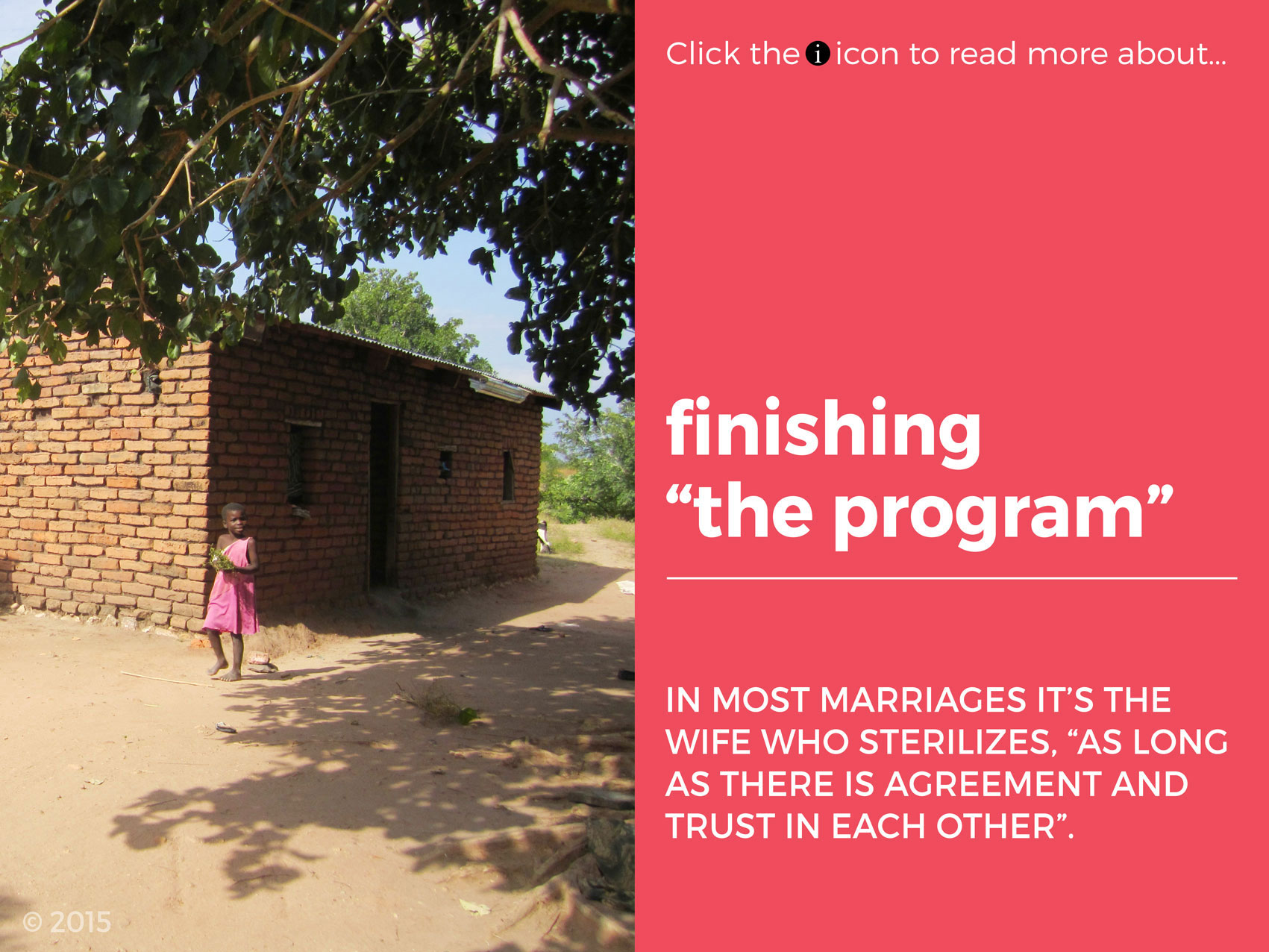 Some men change marital partners to fulfill their desire to have more children. More commonly, when they change marital partner men also change their plan for the size of their family although older men are more likely to approach having more children with trepidation:
"When I remarried, I cancelled the plan for stopping at five children because things had gone bad [they had divorced]. So it was like the direction of the compass changed. Such as how will my new wife stay without children? I asked my new wife and she agreed we shouldn't bear more than four children… If I hadn't had nine children, I would have already roofed the house but my money is divided amongst the children."
When men and women wish to finish having children, the main permanent method of contraception available is female sterilization. Younger women prefer long acting contraception, as this husband recounted, "it's possible the marriage with me will break and she will be married to another man who may also need a child. So if she closes the tube, she will face problems."
An older man whose wives underwent sterilisation said, "in most marriages it's the wife who closes as long as there is an agreement and trust in each other. The husband then engages in a programme not to disappoint the wife, so you behave as if you have also closed... We hear of closing [vasectomy] for men, but we don't have interest to close; maybe in the future."
Changes to men's health, such as chronic illnesses, influence their plans: "After I developed sugar disease [diabetes] it became easy for me to think that with the way my body is, I won't manage to work the way I used to, so I can't add another child."
Several men advised others to finish the programme while they still have wisdom to impart: "Never think that if you have another child it means that the problems of the first child are over, problems continue. There are some who at the age of sixty or seventy have young children and those young children need counselling but at that time you may find that the man's wisdom decreases."
Fatherhood is more than fertility. To truly finish the programme as a father you must be able to offer advice and financial support to your children. Responsibility for dependent children prompts HIV positive men to seek treatment with antiretroviral drugs: "These days at least I work. It takes my wife to say, 'put the hoe down!' I want to put iron sheets on my house so that as my child grows up he should live in a good house."
Men who become incapacitated by chronic disease or who migrate for work may disappoint those who had expected to be assisted by them. However, fatherhood is not just the prerogative of the biological father; it is a responsibility that is distributed amongst male kin. From a patrilineal perspective, a child will ideally be supported by, even live with, his other fathers; uncles, elder brothers and so on, if the birth father is unable to finish the programme.
The saying addressed to new fathers, kuba mulala sono [you are an elder now,] expresses the weight of expectation attached to fatherhood. However, becoming a father and an elder in rural northern Malawi is a lifelong and engrossing process. Male journeys from boyhood to manhood take different twists and turns, for some teenage pregnancy and marriage force them to grow up, for others, education and employment brings them new authority and responsibilities for children in their wider families.
Becoming a father and an elder means many different things today. It could be looking after their own health so they can finish the programme, going to scale [antenatal care] or seeking contraception or treatment for infertility together with their partners. These changes are partly due to HIV, which through personal experience, education, outreach and service development has influenced all stages of men's reproductive journeys.
Young men are keen to protect themselves and their families from infection. Couples who continue to HIV test together with their partners make it a sign of commitment. Before antiretroviral treatment became more readily available in Karonga District in 2006, health workers, living relatives and even ancestors appearing in dreams discouraged HIV positive men and women from having children. Today HIV does not spell the end of life or fertility, but some men prefer to stay without having additional children. One emphasised the importance of mutual care between him and his wife, without "adding more problems in the house."
Becoming a father has never been an individual achievement, whether a man has five wives or spends decades with a childhood sweetheart. For instance women's willingness to care for men's younger siblings and nephews enables them to fulfil the responsibilities of fatherhood, while kin provide funds to secure rights to children.
If becoming a father is a collective effort, by the same logic it should not be something men carry in silence and solitude. As one man advised, "You have to tell your wife, 'I'm a man although I am open like this. I just want you to save your life and my life too. When you are suffering it means I am suffering too.'"
Family planning is another area where frankness and empathy between partners is increasingly valued, as one man put it, "You discuss how many children we will have. Sometimes a man can be fine but a woman can see that she is not well in her body, so a man must understand that we have to stop here or wait. Without agreeing you may find that you have ten children! This was happening in the past. People said children are their wealth, and they wanted many children, but at that time a woman had no right to make decisions."
By looking after their health and careful family planning men look forward to their role as grandfathers. The man pictured on the left reflected, "grandchildren should find you while you are still strong."
But it's not just couples who bear responsibility. Health care needs to be available and accessible. Traditionally men have not been actively engaged by reproductive and child health programmes.
However, services are beginning to expand and recognize male health needs and roles as partners and fathers, which vary with setting and age: "It's important that both the husband and wife should have access to services together. But I don't see any problem if the husband or wife can access services individually because what is required is the services [laughter.]"
There are, however, diverse individuals that men describe as influential, especially in times of reproductive trouble, from friends and relatives to traditional healers and religious leaders. Many men used theological arguments to underpin their involvement in reproductive processes, such as attending a birth, illustrating just how important faith – in what is a majority Christian area - continues to be. So religion, traditional practice and biomedicine all stake a claim in men's reproductive lives, sometimes complementing and sometimes conflicting with one another.
Men call their own fathers and grandfathers to mind when faced with a crossroad in their reproductive journeys. Throughout our research men reflected on the actions of their own fathers with regard or disappointment, meanwhile hoping their own children will recall them with the respect they desire.
exhibition
From boyhood aspirations to grandfatherly wisdom, this exhibition covers the ten concerns that cropped up again and again in Malawian men's stories about fatherhood. Photographs overlaid with quotations highlight moments of transformation or decision in people's reproductive journeys, as they navigate romantic relationships, beginning and planning their families, and grapple with threats to their sexual and reproductive health.